I have been noting a trend among the coolest people. I believe it's been going on for a while, but I think it has reached critical mass.
I see this on cool NYC teens all the time, and it is looking great to my eyes.
Here it is.
Doc Marten boots in purple or black (the vegan ones–for us animal lovrs)
High waisted jean shorts
a baggy t-shirt…perhaps guns n roses…
Trust me, this is a combo that looks maja cool.
Wear this, and you will look like the hippest nyc teen.
I was kind of iffy about doc martens. I got the low top kind, but one of the shoes gave me huge blisters. but now I would like some so I can look cool.
Here is some more DM inspo for you: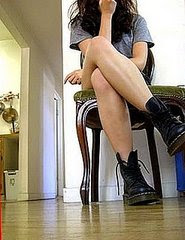 Comments