October 18th, 2013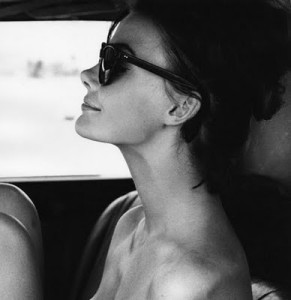 Tonight I had an interesting spiritual experience of sorts.
I had just had dinner with my sisters and friend, and was riding in a taxi back to my apt.
It had just rained and it was warm and beautiful out.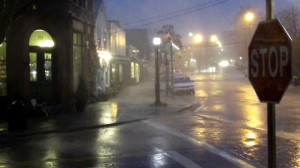 I remember relaxing back into the seat and for some reason, instead of looking at my phone I felt like just enjoying the moment.
I relaxed into the seat and turned my head out the window and let the beautiful breeze rush over my face.
I started gettting lost in the moment and suddenly, like in a dream, I felt reality becoming blurred and I had a vision of my dogs and how they used to love to stick their head out the window. Sort of like how when you are doing a truly perfect impression of someone, and for a second you BECOME that person, in that moment I became my dog, sticking his head out the window, taking in the beauty of life.
I felt exactly like he used to look.
Then I remembered this picture I had seen of a pig sticking his head out the window of the transport trucks. The death trucks, as Toronto Pig Save so aptly calls them. The photo has always stayed with me, because that pig looks exactly like a dog taking in the beauty of life out the window of a car.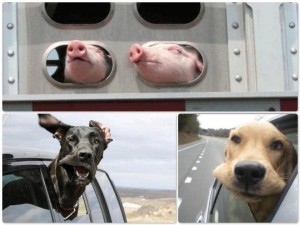 For a moment then, I became that pig.
Then I kind of startled myself out of my reverie.
I was shocked to realize that I was also in the death truck.
I had a kind of spiritual revelation in that moment, that what I felt– the wind and the smell of the world after it rains, the breeze rushing over my skin…. that is EXACTLY what it feels like to be a pig.
And for a second I had a flash of insight.
That is exactly what it feels when a pig sticks its head out the window and enjoys the breeze…
on the way to the slaughterhouse.
In a way I can't even quite articulate, I FELT in that moment that not only were those pigs LIKE me, they were exactly like me. They felt the breeze and enjoyed their life exactly like I was feeling the breeze and enjoying my life.
I know it doesn't make sense. But I had this spiritual experience of sorts in the taxi.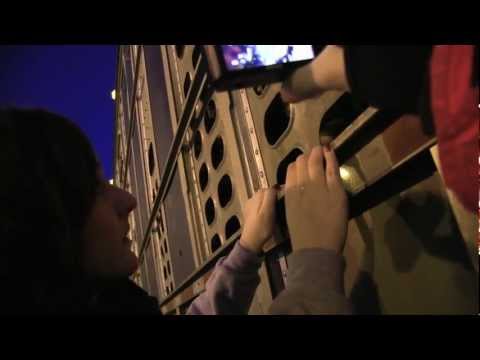 I was a pig in the death trucks.