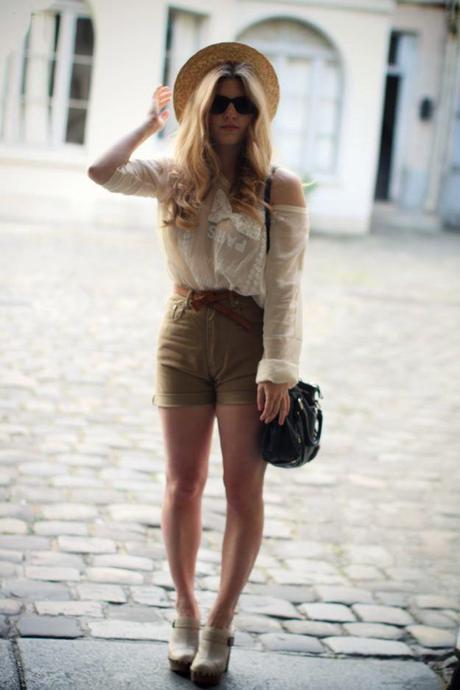 There is this blogger by the name of MakingMagique, well, her real name I believe is Haleigh.
Wow, her blog is incredible. Not only does she take amazing photography, but she seems to have an amazing life. She has an incredible apartment in Paris which she has remade and redecorated with beautiful things, an incredible wardrobe, awesome style, great photography skills, cool friends…it is so fun to check out her blog.
It makes me wish everything I owned was beautiful and awesome. A Dolce Vita, a Non Leather Life, if you will, of beautiful but cruelty free things. One day, I will have a company perhaps providing awesome non leather things so that we can all look as cool as this blogger.
She has very girly style and loves pastel pink and blue. She has this amazing pink bag that she carries all the time in her photos….of course it is leather, but I found a non leather look alike (sort of–well it reminded me of it) on modcloth in non leather and I thought I'd share some pics of her awesome style from her blog. However, I couldn't pick just a few pics, and have included all of my favorites. Check out her blog–there are far more where that came from.
Here is the bag of the wonderful aforementioned blogger:
And here is my vegan lookalike I found for you:
Modcloth Practical in Pink Bag $54.99
Sort of?
Anyway, I tried to share a ton of pics of her inspiring style, but none of them seemed to show up on this blog. Therefore go to my other blog, where I posted them as well, to see many many pics of my favorite outfits of hers. You won't be sorry you checked out these outfits. Or simply go straight to the source–her blog.
Also, if you want to, like this blog on Facebook because I have a fun thing I want to do that I can only do on facebook involving photos of ourselves and our animal inspirations, that I will be writing about in the next post.
Your thoughts? Hehe. <3
Comments